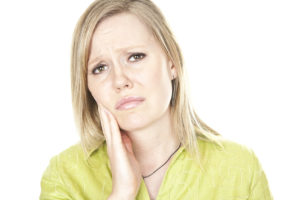 Did you wake up in the middle of the night with a toothache? Maybe you were hit in the mouth while playing a game of basketball? No matter the cause, you are now facing a dental emergency. Although you never expected to find yourself in their situation, it is more common than you might believe. In fact, one in six Americans faces one every year. When it happens to you, do you know what to do? In addition to calling your dentist in Newark right away, there are several things you should do at home.

Dental Emergency? Do Not Panic!
A dental emergency can be quite overwhelming and stressful. If you have never had one before, you may not know what to do. The first thing you need to do is stay calm and then assess the situation. After determining the issue at hand, you can then respond to the problem at home while waiting for your dental appointment.
Knocked Out Tooth
Hold the tooth by the crown and rinse it with water. It is best not to use any soaps, scrub it, or dry it. If possible, reinsert it back into the socket. If you cannot, place it in a cup of milk or water.
Dislodged Tooth
Gently try to push the tooth back into position and bite on a piece of gauze to prevent it from moving.
Broken or Chipped Tooth
If there is any bleeding, bite on gauze to help control it. Rinse your mouth with warm salt water. Use over-the-counter pain relievers and cold compresses to manage any discomfort or swelling. It is best to avoid placing pressure on the tooth until after it has been repaired.
Toothache
This is often a sign of an infection that should not be ignored. Call your dentist right away. Pain relievers can be used to manage any discomfort.
Broken Restoration
If a crown or filling comes loose, do not try to fix it on your own. Instead, rinse your mouth with warm salt water and keep the tooth clean. Avoid chewing on it until after the restoration has been replaced.
Broken Denture
It is best to avoid using any broken oral appliance, including dentures. Place it in a safe area to protect it from further damage. Do not try to fix it on your own.
Call Your Dentist Right Away
As with any emergency, you will require immediate care. Do not wait to call your emergency dentist in Newark. Time is of the utmost importance to help save your tooth from an extraction.
About Dr. Donald T. Bond
Dr. Donald T. Bond is a member of our team at White Clay Dental Associates. He provides high-quality dental care to create healthy, beautiful smiles. In addition to general dentistry, he also offers emergency services. No matter if you have a toothache or you have suffered a break, he can help. He will treat the issue to stop your pain while restoring your oral health. If you have a dental emergency, do not wait. Contact our office today.