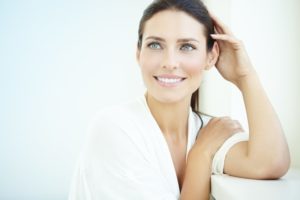 When you look at your smile in the mirror, what do you see? If it's full of flaws and imperfections like discoloration, chips, cracks, gaps, crooked teeth, and more, you could greatly benefit from cosmetic dentistry. These flaws in your smile's appearance may cause you to hide your grin or avoid photos altogether. Thankfully, your cosmetic dentist in Newark can boost your self-confidence by delivering you a beautiful set of pearly whites.
What Cosmetic Services Could You Benefit From?
Teeth Whitening
Do you have stains or discoloration in your smile? Whether it's routine smoking, wine drinking, or just aging, your teeth can become discolored over time. Your dentist can provide you with professional-grade teeth whitening in Newark in the comfort of your own home to brighten your smile up to 8 shades whiter.
Porcelain Veneers
Do you have a variety of flaws in your smile? Porcelain veneers are thin shells of dental porcelain that are bonded to the front surfaces of your teeth to conceal almost any imperfection. The best part is that dental porcelain is stain resistant, so it'll be much harder to stain your new smile.
Dental Bonding
If you have small chips or other imperfections, your dentist can use composite resin to sculpt and shape your tooth back to perfection. This can be done in one quick, easy, and painless visit to your dentist's office.
How Can Cosmetic Dentistry Boost My Confidence?
Having a great looking and feeling smile can affect you positively in surprising ways:
Social Life
You may feel self-conscious about the look of your smile, which causes you to be less outgoing and more reluctant to socialize. Cosmetic dentistry can give you an amazing set of pearly whites, so you can talk, eat, and smile with confidence. You'll automatically appear friendlier and more approachable.
Career Benefits
Your smile is the second thing that people notice about you, so it's important that it looks healthy to make a good impression at work. Whether you're interviewing or making a presentation, a beautiful smile will allow people to perceive you as more trustworthy, loyal, confident, and youthful. If you don't have a smile that you're confident in, hiding your grin may make you come off as stressed or insincere.
Overcoming Trauma
Is your smile flawed because of a past traumatic experience? Cosmetic dentistry can give you a grin that helps you look forward to the future, instead of thinking about the past. Most of all, it puts you in control of your appearance!
Does it sound like you could benefit from cosmetic dentistry? Contact your dentist to get started on a new grin for the new year.
About the Practice
Dr. Donald T. Bond and Dr. Timothy D. Ganfield are a team of dentists who are dedicated to providing quality dentistry to their patients. They take pride in offering cosmetic services that not only beautify smiles but restores confidence to their patients. They currently practice at White Clay Dental, and they can be contacted through their website or by phone at (302) 731-4225 for any questions.