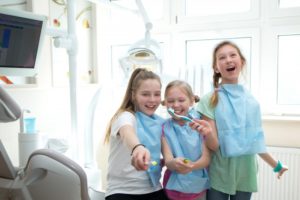 Are you tired of driving your family across town to visit multiple dentists? It's hard enough getting your children to keep up with their oral hygiene at home, but because of everyone's complicated schedules, it's just as difficult for you to get them to their routine visits. Let your family dentist in Newark take some weight off of your shoulders by offering your entire family comprehensive care under one roof. Equipped to treat everything from a child's filling to implant-retained dentures, you can get every generation cared for in the same day! Here are 5 reasons to consolidate your family's dental care.
Establish Long-Lasting Relationships With Your Dentist
Getting each of your family members familiar with the same helpful face is a great way to relieve any anxieties or fears attached to going to the dentist. When these fears aren't addressed, it could lead to a lifetime of oral health problems. Your family will grow to trust your dentist in Newark because they watch them grow! They will be able to comfort and care for them from when they still have their baby teeth all the way into adulthood. Having a trusting relationship with your dentist means more open communications about any concerns or issues they may be having as well!
Keep Better Track Of Your Family Dental History
By moving from dentist to dentist, a lot of information can slip through the cracks. If you have a family history of oral issues like gum disease or decay, your dentist needs to know so they can provide the best possible treatment. This can also help them know what to look for and help you adjust your children's oral hygiene routines accordingly. When all of your dental needs are taken care of in the same office, your oral health history will be easily accessible.
Get Comprehensive Care For Everyone
Whether your parent-in-law needs to see the dentist to be fitted for dental implants, or your teenager wants a straighter smile with Invisalign, you can tackle it all in the same place. Scheduling different appointments for different practices can get confusing and become hard to keep up with. Finding a family dentist that is experienced and you're comfortable with can ensure that your family gets the treatment they need, when they need it.
Clear Up Your Busy Schedule
Working around so many packed schedules is a hassle. Between your children's after-school sports and making sure you get to your appointments on time, it seems like an impossible balancing act. With your family dentist,  you can schedule everyone's visits in the same place, on the same day. This way, you won't need to worry about missed appointments and suffering oral health.
Lead By Example
It's no surprise that your children follow your lead when they see you doing something. Watching you get your teeth cleaned can impact your children and cure any reluctance they may have to see the dentist. Also, when everyone visits their family dentist together, it shows your children you're committed to maintaining your oral health and they should be too.
Visiting a family dentist together can simplify your life and motivate your loved ones to stay on top of their oral health. There's nothing more important to you than making sure your little ones get the care they deserve. Schedule an appointment to get to know your local family dentist today!
About the Author
Dr. Donald Bond has a passion for helping every patient maintain healthy teeth and gums, no matter their age! He enjoys boosting his patient's confidence by giving them a smile they're proud of. His favorite part of his profession is forming long-lasting relationships with families in his community and giving them the treatment they can count on. For any questions or to schedule checkups and cleanings for your family, visit White Clay Dental's website or contact 302-731-4225.