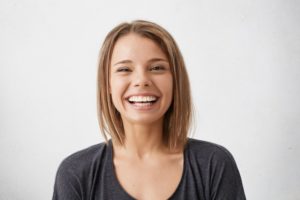 You can barely smile in the mirror anymore without being self-conscious about your discolored teeth. You've been thinking about getting them whitened for a while now, but you're not sure which method to choose. The local pharmacy has take-home whitening kits for cheap, but you've heard they don't work as well as whitening at the dentist's office. Which one should you choose? Let's talk about why professional teeth whitening in Newark is better than store-bought treatment.
What Causes Tooth Discoloration?
There are many reasons that your teeth might be stained or discolored, including:
The natural aging process
Poor oral hygiene
Smoking
Consumption of dark drinks like coffee and tea and foods like berries
Fluorosis caused by too much fluoride consumption at a young age
Why Should You Go to Your Dentist Instead of the Store?
Your cosmetic dentist in Newark offers whitening treatment that works much more efficiently than anything you can find in a store. You can receive in-office treatment for a whiter smile in under an hour. You can also see results on your own time with take-home whitening kits. The bleaching gel used in these kits is significantly more potent than store-bought kits. This means better results, and in less time. Typically, your smile will start to shine up to 8 shades brighter in as little as 2 weeks of daily treatment.
How Long Do Results Last?
This will vary from person to person. If you smoke or frequently consume staining foods or beverages, your results will not last as long as if you avoid those habits. However, with regular brushing and flossing, professional whitening can last up to 3 years or more. Even if you achieve your desired results from a store-bought whitening kit, the newly white color of your smile will not last nearly as long.
It might be more expensive to seek professional teeth whitening treatment, but it is well worth the investment. You'll have longer, safer, and overall better results. Contact your cosmetic dentist to learn how you can achieve the beautifully white smile you've been wanting.
About the Author
Dr. Donald Bond completed his Doctor of Dental Surgery degree at Virginia Commonwealth University School of Dentistry. He attends continuing education hours every year to provide his patient in the Newark, DE area with the most modernized dental care he can. He has a passion for helping patients of all ages achieve bright smiles. To learn more about how Dr. Bond can help restore your confidence in your smile, click here or call (302)-731-4225.