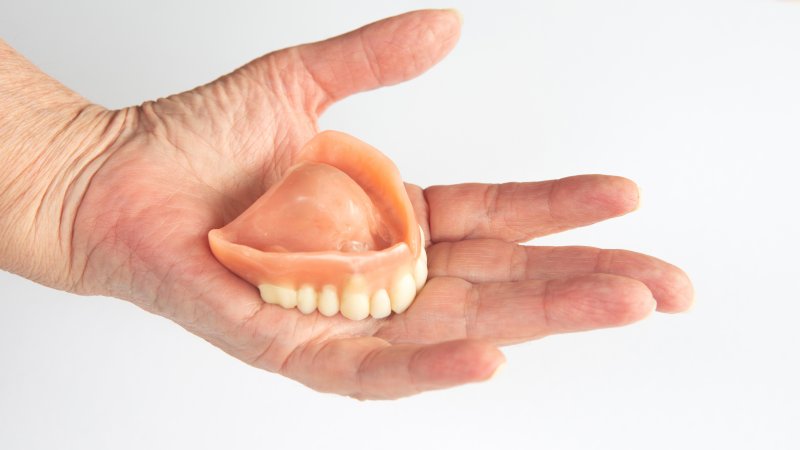 Of the 35 million people in the United States who lack teeth, 90% wear dentures. If you fall into this category, you'll probably enjoy how your false teeth allow you to continue to eat, speak and smile, but it may take some time before you fully get used to them. The good news is that you can take some steps to make the process easier. Here are 5 ways you can start adjusting to your new life with dentures in Newark.
1. Keep Wearing Your Dentures
At first, your dentures might feel loose and awkward before your cheek muscles and tongue learn how to hold them in place. You might also experience increased saliva levels as well as some soreness and irritation. The more you wear your dentures, the easier it will be for your mouth to adapt (although you should always take your dentures out at night). You might need to see your dentist in Newark periodically for adjustments to make sure your false teeth are the right fit.
2. Practice Eating Soft Foods and Work Your Way Up
You'll need to get used to chewing with your new teeth, so stick with soft foods at first; avoid anything hard or sticky that could potentially damage your dentures. Cut your food into small pieces, and don't forget to chew with both sides of your mouth. Over time, you should be able to add other foods back into your diet, although you'll still need to be careful with hot foods or anything with a sharp-edged bone or shell.
3. Get Used to Talking
You might have trouble pronouncing certain words at first. Reading out loud can be excellent practice. Repeat any words that you're having trouble with. If you speak too fast, you might hear a clicking sound; that's a sign to talk slower.
4. Get Used to the Cleaning Process
Dentures need to be cleaned daily in order to protect your oral hygiene, so set yourself a reminder to brush them daily. To avoid unnecessary damage, use a soft-bristled brush and a nonabrasive cleanser. Don't forget the grooves where denture adhesive might get caught. You should also make a habit of rinsing after eating; it may be a good idea to put a towel on the counter or in the sink in case you drop your false teeth.
5. Take Care of Your Mouth
Your gums, tongue, and the roof of your mouth still need to be kept clean, so brush them thoroughly before placing your dentures and after you take them out at night. If you have any remaining teeth, brush and floss them as normal.
If there are any problems with your dentures or if you have questions, remember that you can always contact your dentist with your concerns.
About the Practice
At White Clay Dental Associates, Dr. Donald T. Bond and Dr. Timothy D. Ganfield combine their experiences in various dentistry services to give patients better smiles while forging friendly relationships. They offer full and partial dentures for those missing all or some of their teeth. To schedule an appointment, visit their website or call (302) 731-4225.