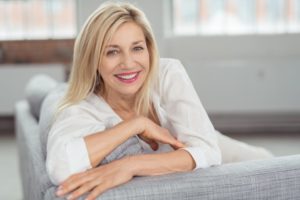 Whether you're getting porcelain veneers or already have them, it's important to maintain proper upkeep once they're placed in your mouth. Porcelain veneers are relatively stain-proof and strong, but there are some factors that you should consider to extend their lifetime. Keep reading to learn about some of the foods that you should avoid to get the most out of your new smile.
How Do Porcelain Veneers Work?
Porcelain veneers are thin shells of dental porcelain that are designed to cover the front surfaces of your teeth. This custom-made cosmetic service can erase imperfections like chips, cracks, slight gaps, permanent discoloration, and misshapen teeth all at once! Your cosmetic dentist in Newark will prepare your smile by removing a slight portion of your enamel. Then, they will take images and impressions of your smile to create personalized veneers. After, you'll come back into the office, where they will permanently bond your porcelain veneers to the front surface of your smile for unmatched beauty.
Which Foods Should I Avoid with Porcelain Veneers?
While porcelain veneers are made to be durable, there are still some foods that you should watch out for now that you have a pristine set of teeth, including:
Dark Liquids
While dental porcelain is relatively stain-proof, drinks and foods rich in color put you at risk of staining your smile. If you do end up drinking coffee or red wine, rinsing your mouth out with water immediately after can decrease your chances of damaging your veneers.
Highly Acidic Foods
Foods that are highly acidic like sodas, candy, grapefruits, processed meats, and more can permanently hurt your veneers and even affect your natural teeth. While it's hard to avoid acidic foods altogether, water and low-fat dairy are great neutralizers. You should also wait at least 30 minutes after eating or drinking something acidic to brush your teeth. Brushing too soon after the fact can cause abrasion on the surfaces of your veneers.
Alcohol/Tobacco
Alcohol can affect your porcelain veneers by causing gum recession and eroding the bonding agent that holds your new smile in place. Additionally, while this isn't a food or drink, you should also avoid poor lifestyle habits like tobacco use to enjoy a beautiful smile for years to come. While dental porcelain is stain resistant, tobacco can discolor the bonding agent, which will affect your overall appearance.
Hard foods
Hard foods like raw carrots or candy can crack and damage your porcelain veneers. You should also avoid chewing on ice cubes or any nonfood items. And, while it can be tempting to use your teeth as tools, avoid using your pearly whites for anything other than eating and speaking.
Now that you know more about how to take care of your porcelain veneers, use these pro tips to enjoy a beautifully white and strong smile for as long as possible.
About the Practice
At White Clay Dental, Dr. Donald T. Bond and Dr. Timothy D. Ganfield are dedicated to providing high quality care for their patients in Newark. Their practice has been open for 50 years, which means that you can count on quality and consistent care. They offer cosmetic services like porcelain veneers to help improve lives and boost confidence. For any questions, they can be contacted through their website or by phone at (302) 731-4225.