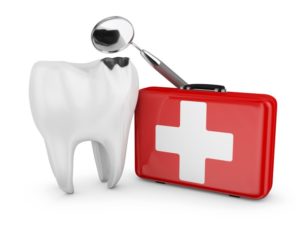 You love coffee. Whether it's iced or hot, you can't get enough of it. One day you're sipping on a piping hot cup and a wave of pain shoots through your mouth. This doesn't normally happen. You switch to an iced coffee from the convenience store and the same thing happens to the exact same tooth. What gives? Is this a reason to see your emergency dentist in Newark? Should you go to the ER instead? Read more below to find out.
Do You Have a Dental Emergency?
A severe toothache is certainly a reason to visit a medical professional, but it's not the only one. Other common dental emergencies include:
Broken or fractured tooth
Fully or partially dislodged tooth
Damage to soft tissues in mouth
Oral swelling or bleeding
Why Should You Visit Your Emergency Dentist?
If you have a problem with your tooth, it's always best to visit your dentist in Newark rather than the ER. Emergency rooms are often crowded with people who should be seeing a dentist instead, increasing wait times for everyone. In addition, the staff at the ER are trained in general medical knowledge, not the specialized oral care that patients with dental emergencies require. They may not have the expertise to treat a knocked-out tooth, meaning it won't be successfully reattached in time. Your emergency dentist has the training necessary to save your teeth if they are dislodged.
How Can You Prepare for a Dental Emergency?
By creating a dental emergency kit and keeping it with you, you can react quickly in case of a problem. Pack a kit that includes:
A card with the name, phone number, and address of your dentist
An empty container
Saline solution
Floss
Dental wax
Over the counter pain medication
Sterile gauze
Also, there are a few things you can do to help prevent emergencies from happening in the first place:
Brush your teeth twice a day with fluoride toothpaste
Floss every day
Visit your dentist for a checkup every six months
Avoid chewing on ice and hard and sticky foods
By sticking to these steps, you can avoid an extra visit to your emergency dentist and save your teeth in the process.
About the Author
Dr. Donald Bond achieved his Doctor of Dental Surgery degree from Virginia Commonwealth University School of Dentistry. He is a member of several professional organizations, including the American Dental Association and the Delaware State Dental Society. If you think you have a dental emergency, don't hesitate to visit the doctor's website or call (302)-731-4225.