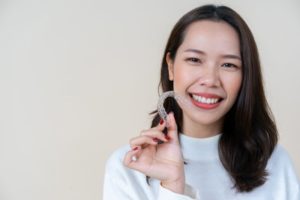 If you're the parent of a teenager, odds are you had braces when you were their age. At the time, it was pretty much the only option if you wanted a straighter smile. These days, however, there's another option – Invisalign in Newark. These sets of clear plastic trays will gradually move your teen's teeth into a straighter position. Of course, with this fairly new treatment, you're bound to have some questions. Fear not, as a dentist is here to answer 7 of the most common questions about Invisalign Teen that we get.
1. How Does Invisalign Teen Work?
Your cosmetic dentist in Newark will take impressions of your young one's bite to design custom aligners trays to wear over their teeth. Unlike braces, these trays are perfectly clear. However, they work in a similar way to braces in that they exert a gentle pressure on the teeth to gradually move them into a more aligned position. Every two weeks, your teen will change the aligners for a new set. Each set is designed to focus on a small part of their smile. After a year or so, your teen's smile will be perfectly straight.
2. How Many Hours a Day Does My Teen Need to Wear Their Aligners?
Treatment won't work properly unless your teen wears the aligners for at least 22 hours a day. Basically, they should only remove them when they eat, drink, brush, and floss. If your teen is in the band or plays sports, they can remove the aligners temporarily, but other than that, the trays should be in at all times.
3. How Will I Know If My Teen Is Wearing the Aligners?
Wearing the aligners is a lot like flossing – your dentist will easily be able to tell if your teen is neglecting it. When your teen comes in for their checkup, the dentist will evaluate their progress and see if your teen is on track. If not, that may indicate that the aligners are not being worn as often as they should be.
4. What If My Teen Loses an Aligner?
Since your teen has to remove the aligners to eat, it's fairly easy to misplace them. If your young one loses an aligner, don't worry. Call your dentist and let them know. If your teen was already close enough to move on to the next set, they may just have him or her do that.
5. Are There Any Dietary Restrictions?
Because your teen needs to remove the aligners when they eat, there are no restrictions for their diet. As long as they take out their trays before eating, they can eat pretty much whatever and whenever they want.
6. What Are Some Common Problems with Invisalign?
When your teen switches to a new set of aligners, there may be some discomfort. This might keep him or her from wearing the aligners, so no progress is made. However, once he or she gets adjusted, the aligners should present no problem. The fastest way to power through the discomfort is to simply wear your aligners. That way, your mouth can quickly get used to them.
7. Is Invisalign More Expensive Than Braces?
Invisalign has a reputation of being more expensive than braces, but they usually cost about the same. Talk to your insurance company. Often, they will cover some or most of an orthodontic treatment, especially for teens. The price may depend on a few things, such as the severity of your misalignment and the length of treatment. Ultimately, the price is different for everyone.
Invisalign is a great way for your teen to get the straight smile they deserve without the hassle of metal braces. If you think your teen could benefit from it, or if you just have a few questions, ask your dentist if they provide Invisalign.
About the Author
Dr. Timothy Ganfield is a certified Invisalign provider who regularly takes continuing education courses in orthodontics. He graduated magna cum laude from the dental school of Temple University. If you are interested in straightening your teen's grin, contact Dr. Ganfield at (302)-731-4225.