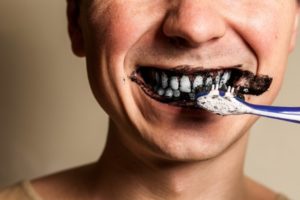 Humans have been using activated charcoal for millennia, for everything from creating bronze in Ancient Egypt to storing water in Ancient Phoenicia. The Romans even used it as an ingredient in their toothpaste. These days, it's become popular as a tooth whitening solution, even though it seems counterintuitive. How can a black paste make your pearly whites brighter? Let's find out if charcoal actually works for teeth whitening in Newark, according to different sources.
What Do Social Media Influencers Say?
Many beauty vloggers claim that because activated charcoal is more natural than other teeth whitening chemicals, that it's less harmful and abrasive. Search "charcoal whitening" and you'll get millions of articles and videos touting its benefits. Add to that the fact that you can find activated charcoal in a lot of pharmacies and even grocery stores, and it's hard to see how it could be detrimental.
What Does Your Cosmetic Dentist in Newark Say?
Although activated charcoal may seem more natural than other teeth whitening products, your dentist warns against it. Charcoal actually contains abrasive chemicals that can remove more than just surface stains on your teeth. It can wear down your enamel, or the outer layer of your teeth, and leave you more vulnerable to cavities, gum disease, and sensitive teeth.
In addition, it can actually make your teeth appear even yellower. This is because underneath your enamel is a layer of material called dentin, which is yellowish. The more enamel is worn away, the more the dentin is exposed, making your teeth look less white. By trying to whiten your teeth with activated charcoal, you may be producing the opposite effect.
What Does the American Dental Association Say?
The American Dental Association (ADA) has still not given activated charcoal its Seal of Acceptance. In 2017, the Journal of the ADA released an article stating that more research needs to be done on the efficacy of activated charcoal to whiten them in the process. To this day, not enough studies have been conducted.
If you're looking for a way to brighten your smile, ask your cosmetic dentist for professional treatment. In the safe, controlled environment of your dentist's office, you can achieve the results you want more easily, and they will be longer lasting to boot.
About the Practice
At White Clay Dental Associates in Newark, DE, Drs. Timothy Ganfield and Donald Bond offer a wide variety of dental services to patients of all ages, including cosmetic dentistry. They have take-home whitening kits to deliver the results you want safely. If you have a smile you'd like to be a little less yellow, contact us by calling (302) 731-4225.