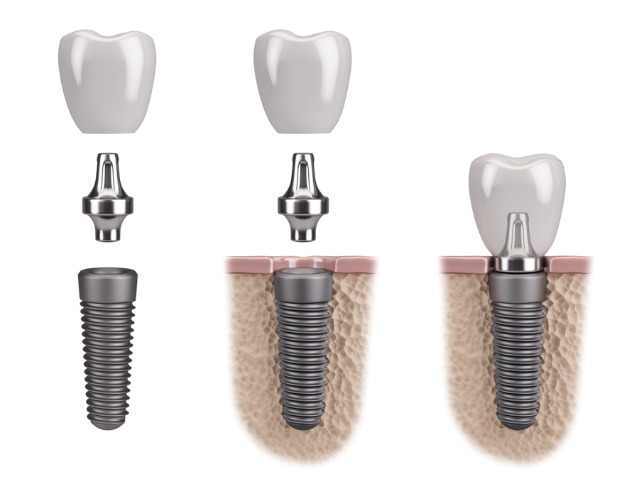 Did you know that more than 5 million dental implants are placed each year in the U.S.? Without question, this modern tooth replacement option is widely considered the best way to restore someone's smile after tooth loss. But one of the most common questions people ask their dentist is, "What is the procedure like?" Since dental implants in Newark are completed in a multi-step process, it's helpful to start with a brief description of each treatment phase. After reading this blog, you'll have a good idea of how the process works from start to finish and what you can expect along the way.
Consultation
Although implants can work for the vast majority of people, it's important to start with a consultation to make sure they'll be successful for you. At this visit, a dentist will assess your medical and dental history and take detailed images to evaluate your teeth and jaws. If you've lost bone density in your jaw, which can happen if it's been a long time since you lost your teeth, a bone graft or similar procedure may be recommended prior to your implant surgery. 
Preliminary Procedures (As Needed)
Some patients won't need any additional dental work before getting implants, while others will need to start with extractions, a bone graft, or gum therapy.
Implant Surgery
Next, a dentist in Newark will perform a small, in-office surgery to place the implants in your jaw. This typically takes 1-2 hours per implant, and many people say it's much easier than they expected. After the titanium post (which is the implant itself) has been positioned, a small healing cap will be placed over it to protect the area and encourage the gums to heal properly.
Osseointegration and Abutment
Then your implant will be given time to fuse with the surrounding jawbone (this takes 3-6 months on average). Called osseointegration, this process is what gives implants their strength and stability. Once complete, an abutment (or adaptor) will be attached to the implant to connect it to the final restoration.
Final Restoration
The last step is restoring your implant with a prosthetic tooth (or teeth). Either a crown, bridge, or denture will be custom-made to look great and blend in with the rest of your teeth. After your implant has been restored, you'll have a complete smile that looks and functions like your own.
When it's all said and done, the implant procedure takes longer than other replacement options. But the payoff is well worth it because your implants will feel more natural than anything else and can last a lifetime with basic maintenance. These benefits, along with many others, make dental implants one of best investments you'll ever make!
About the Author
Dr. Timothy Ganfield is a general, cosmetic, and restorative dentist in Newark and also a native of Delaware. With advanced training and many years of experience, he and his colleague, Dr. Donald Bond, provide start-to-finish implant dentistry under one roof. They're always happy to answer questions about the dental implant process and can be reached via their website.