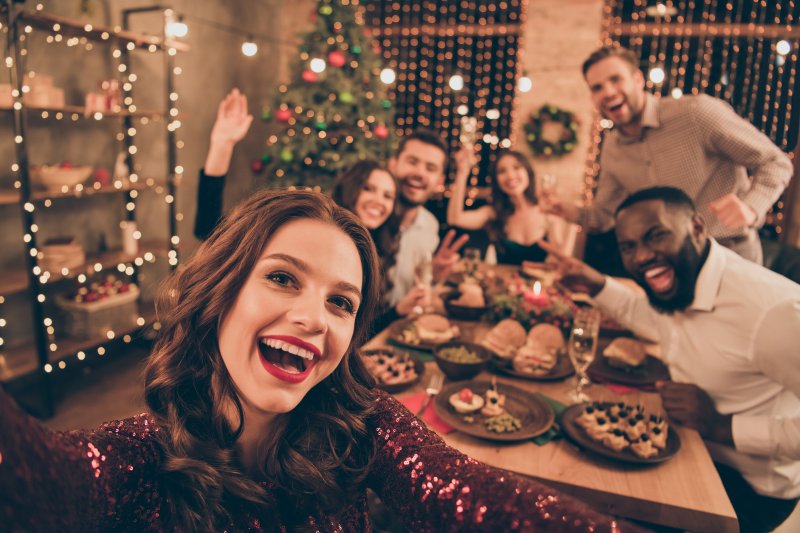 When you think about it, the holidays just wouldn't be the same without your teeth. After all, they help you savor your favorite dishes, talk up a storm with your loved ones, and enjoy a picture-perfect smile for the camera. So, there is no time like the present to show them some TLC. Unsure how? A dentist in Newark is sharing where to start!
#1. Keep Floss Handy
Amid the hustle and bustle of the holiday season, it can be difficult to complete your entire oral hygiene routine between each meal. Fortunately, a small pack of floss can help your teeth and your dining experience. Not only will the thin, durable thread dislodge any food particles trapped between your teeth, but it will also fight decay and prevent cavities. That way, your favorite holiday dishes aren't the culprits of dental work in the new year!
#2. Fill Up on Protein
Between marshmallow-topped sweet potatoes and decadent cranberry sauce, it can be tempting to pile your plate high with sugar, sugar, and more sugar. Unfortunately, staples like these turn into enamel-eroding acid when they interact with the bacteria in your mouth, leaving you vulnerable to decay. Fortunately, you can prevent that from happening by enjoying the turkey and vegetables in larger quantities.
#3. Limit Sticky Sweets
Candied pecans and ooey-gooey caramel are just a few holiday ingredients that your taste buds love, but your teeth despise. Since avoiding them altogether is nearly impossible, do your best to exercise moderation by enjoying them sparingly and completing your oral hygiene routine shortly after. That way, you can indulge guilt-free!
#4. Avoid Wine or Soda with Dinner
Since most holiday meals are comprised of a lot of sugar, the last thing you want is to make your teeth and gums even more vulnerable to damage by opting for wine or soda throughout the day. Not only can they stain your teeth, but they can weaken your tooth's enamel, which can require everything from a small filling to root canal therapy to restore. Therefore, enjoy a nice glass of water instead!
Thanksgiving is a time of gratefulness, so why not extend your gratitude to your teeth. After all, they make all the smiling, chewing, and talking you do during this time of year possible!
About the Practice
For five full decades, White Clay Dental has helped patients in Newark with everything from preventive care and restorative dentistry to cosmetic treatments. Today, Dr. Timothy Ganfield and Dr. Donald Bond use the latest technology and their extensive education to deliver a truly exceptional dental experience, and it hasn't gone unnoticed. In fact, they were voted "Best Dentist in Newark!" If it's time for your bi-yearly appointment or your teeth need some holiday-time TLC, visit their website or give them a call at 302-731-4225.