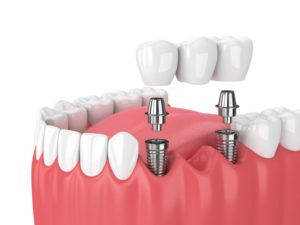 A dental implant basically acts as a root for a missing tooth. Because of this, many people assume that they'll need to replace each individual tooth with an implant, but that's not necessarily the case. Thanks to the precise angles at which the posts are inserted, it's often possible for several teeth to be supported by just a few dental implants in Newark. Continue reading as we discuss how your dentist determines how many implants you need to enjoy a full and complete smile again.
Bringing Back a Single Tooth
Replacing just one missing tooth is the most straightforward dental implant option. A single implant post will be surgically placed into the gap where your tooth once was. Over the next three to six months, the implant will fuse to your jawbone and surrounding tissues. Once this process is complete, a custom-made dental crown is placed on top of it. The crown will look so natural that onlookers shouldn't even be able to tell that it's not your "real" tooth!
Replacing Multiple Missing Teeth
If you've lost two or more teeth in a row, your dentist will carefully examine your jawbone, the location of the missing teeth, and other aspects of your mouth to determine exactly how many dental implants you need. Two consecutive missing teeth can often be addressed with a single implant. This post can support a dental crown as well as a pontic (a type of artificial tooth).
For three to five missing teeth in a row, your dentist will typically use an implant-retained bridge. An implant will be placed at either end of the gap in your grin. Each of these posts will support a dental crown, with one or more pontics suspended in between them to restore your smile.
Rebuilding an Entire Arch
If you have lost all teeth on your top and/or bottom arch, then you may have been disappointed by a traditional denture. However, by securing a denture onto dental implants, you can enjoy a smile that is nearly identical to what it was like before tooth loss. Instead of replacing each individual tooth with an implant, four to six implants can be inserted at strategic angles and locations throughout your jawbone. These implants are enough to support a denture that looks and feels natural, doesn't slip around, and lasts for decades at a time.
With that said, how many dental implants do you need? Well, it depends. The only way to find out for sure is to schedule a consultation with your dentist. They can evaluate your smile and discuss your personalized treatment options.
About the Practice
At White Clay Dental Associates, we have two highly skilled dentists who provide dental implants in Newark, DE as a tooth replacement option. Dr. Donald Bond earned his Doctor of Dental Surgery degree from the Virginia Commonwealth University School of Dentistry. Dr. Timothy D. Ganfield graduated Magna Cum Laude from Temple University. They partner with the best specialists in the area to deliver top-notch implant care. To learn how many dental implants you'll need, visit their website or call (302) 731-4225.