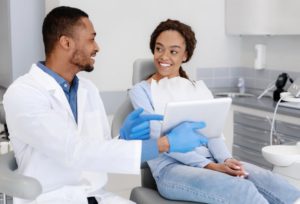 Has it been a while since your last dental appointment? Whether it's due to time constraints, cost, anxiety, or the current COVID-19 pandemic, there are plenty of reasons why you may have put off a visit for months or maybe years. However, now that you've taken the first step and scheduled your next checkup, you're that much closer to taking charge of your oral health! Congratulations! If you're feeling a little nervous or unsure about your appointment, read on to learn more about what your next dental checkup will look like if it's been a while.
Checking In
Because of the current COVID-19 pandemic, checking in for your appointment will work a bit differently than before. When you arrive at the practice, you'll stay in your car and give the front desk a call to check in. Then, when you enter the office, you'll take a quick health questionnaire and fill out new patient paperwork about your medical history and dental insurance (if you haven't filled these out online beforehand). Next, you'll be asked to use a hospital-grade hand sanitizer before being led back to the treatment area.
Meeting Your Dentist
Once you're settled into the dental chair, you'll meet your dentist. While they will be wearing more PPE than before and won't be giving out handshakes, you can rest assured that they're happy to see you. They'll take the time to introduce themselves and get to know you, including reviewing your health history and asking about any dental concerns you may have. Then, they'll ask you to rinse your mouth out with a special mouthwash and introduce you to one of their talented hygienists.
The Dental Cleaning
While you sit back and relax in the chair, your dentist or their dental hygienist will carefully clean your teeth. They'll focus on removing plaque and tartar buildup from those hard-to-brush places like behind your back molars and just under your gumline. Then, they'll use a different tool and a slightly gritty substance to polish away any surface stains on your enamel and leave your teeth gleaming. While none of this should cause discomfort, feel free to let your dental team know if you have sensitive teeth or concerns about pain so they can make arrangements to keep you comfortable.
The Dental Exam
Next is the dental exam, which includes several components:
Dental X-rays: These ultra-low radiation digital X-rays allow your dentist to detect hidden cavities or cracks and check on the health of your jawbone and the roots of your teeth.
Visual inspection: Your dentist will carefully inspect the health, function, and integrity of your teeth and any previous dental work.
Gum health check: Using specialized tools, your dentist will measure the health of your gum tissue and look for any signs of infection.
Oral cancer screening: Your dentist will also be on the lookout for any abnormalities that could indicate cancer or other systemic issues, such as diabetes, kidney disease, acid reflux, and many more.
Discussing Your Oral Health
Afterwards, your dentist will review their findings with you. If you have any issues that need to be addressed, such as cavities, gum disease, or damaged teeth, they'll teach you more about the problem and work with you to create a custom treatment plan. They may recommend certain dental products to make your at-home dental hygiene more effective, and they will go over the best techniques for brushing and flossing. Then, the friendly staff at the front desk will help you schedule your next appointment.
There's no need to feel shy or embarrassed while visiting your dentist. They have no interest in making you feel judged— they just want to help you get a healthier smile! No matter how long it's been since your last dental visit, they'll be happy to help you get your oral health on track.
About the Practice
White Clay Dental Associates has been serving the smiles of Newark and the surrounding communities for the past 50 years. Dr. Timothy Ganfield and Dr. Donald Bond are proud to carry on the tradition of providing high-quality, personalized, and friendly care for smiles of all ages. Whether you need a simple checkup or a more complex treatment, they're dedicated to making every appointment as pleasant as possible. To schedule your next checkup, they can be contacted via their website or at (302) 731-4225.