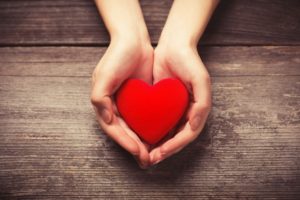 When you hear the words "heart health," do you think of brushing and flossing your teeth? Chances are, probably not! However, a growing body of research is beginning to suggest that maintaining great overall health starts with your smile. Study after study demonstrates that healthy teeth and gums can boost your general wellbeing, while poor oral health can leave you at a much higher risk of systemic health conditions like diabetes, memory loss, and heart disease. Since February is American Heart Month, it's the perfect time to learn more about how keeping your smile healthy can protect your heart.
Linking Gum Disease & Heart Health
Untreated cavities, dental infections, and other oral health problems have been linked to a wide variety of serious health conditions. However, one of particular interest is that of gum disease and heart health. Gum disease is a bacterial infection in the gums that starts off small and unnoticeable, but can advance and cause jawbone damage and tooth loss if not treated. Experts believe that the harmful bacteria at the root of this infection and the inflammation it causes can eventually spread from the mouth to the rest of the body. This would clog important arteries and leave the inner linings of the heart's chambers and valves vulnerable to infection.
While research is still ongoing, there is indisputable evidence that gum disease and heart disease are connected. Across numerous studies and years of research, the presence of gum disease in a patient has been shown to increase their risk of heart attacks, strokes, and other cardiovascular events by 20%. In a separate study, experts found that patients with poor heart health but healthy teeth and gums paid 10-40% less in cardiovascular care costs than those of similar conditions but with gum disease.
The Heart Health Benefits of Smiling
Practicing great oral hygiene is essential for keeping issues like gum disease at bay. However, it will also help you feel better about the appearance of your pearly whites, which will naturally encourage you to smile more! Smiling triggers the release of serotonin, dopamine, and endorphins in your brain. Aside from boosting your mood, these feel-good chemicals reduce stress and lower blood pressure, which is great for keeping your heart healthy!
How to Keep Your Heart & Smile Healthy
Thankfully, the American Dental Association and the American Heart Association recommend keeping yourself healthy with a few simple habits, like:
Brushing your teeth and gums for two minutes twice a day
Flossing thoroughly every day
Eating a low-sugar, nutritious diet
Getting a routine dental checkup and cleaning twice a year
Keeping an eye out for any warning signs of gum disease and taking action right away
When you maintain great oral health, you're doing a lot more than just protecting yourself from bothersome cavities. Taking care of your smile is an important part of taking care of your heart!
About the Practice
At White Clay Dental Associates, we do everything we can to help protect the smiles of Newark from gum disease. That's why every routine dental checkup includes a gum health screening, dental cleaning, and instructions for our patients on how to floss properly. However, should you develop gum disease, we can help gently but efficiently restore your gum health with a deep cleaning (called scaling and root planning). If you are concerned about gum disease, don't hesitate to contact us via our website or at (302) 731-4225.