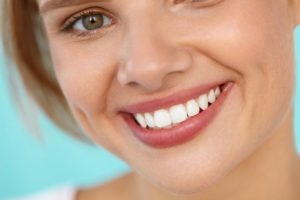 It's no secret that a beautiful smile is an important trait in today's society. But what makes a smile "beautiful?" When we look at someone's smile, there are several factors our brain's take into consideration when forming an opinion of them. In fact, researchers believe that there are five key aspects we subconsciously look for to determine if a set of pearly whites is pretty or not. Improving even just one of these traits can dramatically improve your smile! Read on as your Newark cosmetic dentist breaks down the five most common traits of a beautiful smile and how cosmetic dentistry can help!
1.) White Pearly Whites
Discolored teeth are one of the most common flaws that can take a substantial toll on your appearance. Thankfully, they're also one of the easiest to correct! A professional in-office whitening treatment or take-home whitening kit can quickly, comfortably, and reliably take years of stains off your teeth.
2.) No Chips or Cracks
Are you embarrassed by a small chip or crack in your teeth? Correcting this imperfection will enhance the look of your smile and prevent the damage from getting worse. Minor issues can usually be fixed in a single appointment with dental bonding, while more substantial problems can be addressed with porcelain veneers.
3.) No Silver Spots
In the past, silver fillings and crowns were your only options for repairing damaged or decayed teeth. A shiny metallic blob amidst your pearly whites can stand out quite a bit and make you look older than you actually are! Nowadays, you can have these old-fashioned restorations removed and replaced with biocompatible tooth-colored ones for seamless results!
4.) Evenly Spaced Teeth
Another very common issue that can have a big impact on your smile is the spacing of the teeth. Not only do crowded or spaced-out teeth distract from your appearance, but they can increase your risk of oral health issues like tooth decay and gum disease. Some solutions are as easy and quick as dental bonding or porcelain veneers, while other cases may be better corrected with orthodontics.
5.) Correctly Shaped Teeth
Most people aren't born with a perfect set of pearly whites. While a naturally misshapen tooth can be endearing, not everyone loves the shape of their slightly-different teeth. Thankfully, there are a variety of ways you can transform one, two, or several imperfect teeth so that they're the exact size and shape that you want!
No matter what you're looking to improve about your teeth, modern cosmetic dentistry has the answer. Talk to your Newark cosmetic dentist today to discover how you can finally achieve the beautiful smile you deserve!
About the Practice
White Clay Dental Associates is proud to provide personalized, high-quality dental care for smiles of all ages in Newark. In fact, they are honored to be recognized as "Best Dentist in Newark" by Delaware Today! With a range of both restorative and cosmetic treatments and a true passion for helping their patients achieve a smile that looks and feels its best, they make every appointment a pleasant experience. To learn more about how to achieve a beautiful smile with cosmetic dentistry, they can be reached on their website or at (302) 731-4225.