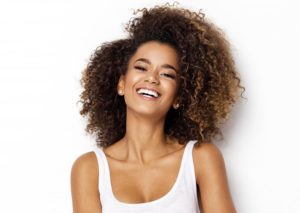 When you see yourself smiling in the mirror or a photo, do you wish that your teeth were whiter? Even if you brush every day, your pearly whites may start to look dull and yellow over the years. Thankfully, there are a few easy but effective ways to fix tooth discoloration! Read on as your Newark dentist shares five reliable tips for a brighter smile that actually work.
Practice a Thorough Dental Hygiene Routine
How long do you brush your teeth? Do you floss every day? Unfortunately, slacking off on your at-home dental hygiene is one of the easiest ways to let your teeth discolor. Your first step on your journey towards a brighter smile should be to improve your oral hygiene habits! Make sure you're brushing for a full two minutes twice a day and flossing daily to remove all the staining particles from your smile.
Strengthen Your Enamel
If your enamel erodes or becomes weakened, the grayish layer of dentin underneath may begin to shine through. While damaged or decayed enamel can't grow back, you can strengthen weakened enamel with the right care! Eat lots of foods containing calcium, like cheese, milk, and yogurt, and use fluoridated toothpaste and mouthwash to help fortify the enamel so your teeth regain their natural shine.
Avoid Dark-Colored Foods & Drinks
Knowing what can stain your teeth can go a long way in helping you prevent your tooth discoloration from getting worse. Even just limiting some staining foods and drinks can help significantly reduce the risk of deepening any current stains. Do your best to avoid items like red wine, berries, coffee, tomato-based sauce, and pomegranates. If you do indulge in these foods or drinks, brush your teeth or drink water soon afterwards to clear away staining particles.
Be Wary Of Over-the-Counter Whiteners
Some store-bought whiteners can be mildly effective at brightening teeth. However, many can only achieve unimpressive, hardly noticeable results. In addition, overusing these whiteners can damage your enamel and lead to tooth sensitivity. For example, a whitening toothpaste can help remove surface stains from your teeth, but prolonged use can scratch away your enamel and cause your teeth to look dull.
See Your Dentist
The most reliable and effective way to get whiter teeth is to visit your dentist for a whitening treatment. As a highly trained and experienced professional, your dentist can use powerful whitening agents and apply them safely to help you get a dazzling smile! In as little as a single appointment, you can achieve a set of pearly whites that is six to eight shades brighter. A professional treatment is a fast, reliable, and cost-effective way to get impressive results.
You deserve to have a smile that you're excited to show off! Keep these simple tips in mind to help your smile look and feel its best.
About the Practice
At White Clay Dental Associates, we're dedicated to helping the smiles of Newark and the surrounding communities stay happy and healthy for a lifetime. That's why we offer a wide range of cosmetic dental treatments, including both in-office and take-home whitening options. Our talented team will work with you to create a personalized treatment plan to help you achieve the smile you've always wanted. To learn more, we can be contacted online or at (302) 731-4225.