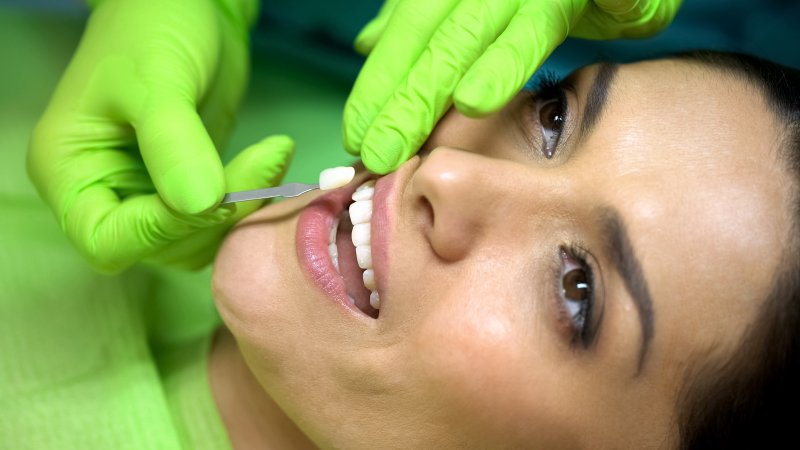 Are you looking to fix the small flaws and imperfections of your smile? Everyone wants to feel great when it comes to showing off their teeth. Not only does it improve your confidence, but it can affect the ways that others see you. After all, your smile is the first thing that people notice when you walk into a room. Porcelain veneers are a great option for covering up cosmetic dental issues. Read on to learn more from your dentist about the various benefits of porcelain veneers.
Have a Natural Appearance
One thing many people worry about when they consider getting cosmetic treatment done is whether or not others will be able to tell. You want changes made to your smile to improve your appearance, but you don't want others to know that you've had cosmetic dental work done just by glancing at you. Veneers may take a couple of appointments, but you will end up with a perfectly natural outcome. The veneers are custom-made for each patient in order to match the exact size, shape, and color needed for gorgeous results.
Minimally Invasive Procedure
When compared to other dental restoration options, dental veneers are minimally invasive. After you have your first consultation where your dentist will determine that you are a good candidate, they will prepare your teeth by removing a small amount of your protective enamel. Impressions will then be taken and sent off to a dental laboratory to make your veneers. During your last appointment, they will be cemented to your teeth, and you will have the smile you've dreamed of.
Long-Lasting Option
Porcelain veneers are cemented to your teeth and resist both decay and stains better than your real teeth. This is because they are non-porous. When you care for them properly, they can last between 10 and 15 years before needing to be replaced.
Easy to Maintain
When it comes to caring for your porcelain veneers, it is not much different than taking care of your natural teeth. You will need to continue brushing twice and flossing at least once every day. Regular checkups and cleanings are also necessary in order to maintain excellent oral health.
Fixes Many Issues
The great thing about porcelain veneers is that they can fix all sorts of problems. Whether you have a couple of chipped teeth, discoloration, misshapen or undersized teeth, or small gaps, dental veneers are a quick and easy solution. These thin shells of porcelain can camouflage a wide array of different cosmetic dental issues.
If you are looking for a cosmetic solution for your smile, porcelain veneers may be the answer. Schedule a consultation with your dentist to find out if they are the right option for you!
About the Practice
At White Clay Dental, you have not just one, but two experienced dentists who have years of experience in providing a wide range of dental services. Both Dr. Donald T. Bond and Dr. Timothy D. Ganfield are members of numerous professional organizations, including the American Dental Association and the Delaware State Dental Society. To learn more about dental veneers or to schedule an appointment at their office in Newark, visit their website or call (302) 731-4225.