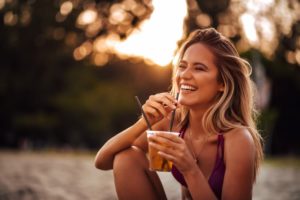 As any dentist will tell you, daily brushing and flossing are crucial at any time of the year. However, the warmer months come with an additional threat to your dental health – dehydration. Not only does this mean that oral hygiene is more important than ever, but you'll also need to take extra precautions if you want to keep your smile safe. Luckily, doing so is pretty easy as long as you follow these five summer oral health tips.
Drink Plenty of Water
It's no secret that drinking water improves your overall health, but did you know that it also benefits your smile? It works to prevent dry mouth, which is more common in the summer due to the increased risk of dehydration. Without enough moisture in your mouth, food particles can linger and attract bacteria that contribute to tooth decay, gum disease, and more. Plus, drinking plenty of water can even freshen your breath!
Choose Tap Over Bottled Water
Grabbing a bottle of water on your way out the door feels more convenient than filling up your own reusable bottle in the kitchen sink. However, bottled water usually isn't fluoridated like tap water is. Fluoride is an important mineral that strengthens your tooth enamel, reduces the risk of tooth decay, and can even reverse cavities in their early stages. Whenever you can, try to drink tap water instead of bottled – it will help your teeth stay strong and cavity-free!
Limit Carbonated Beverages
While sugar-free sodas are less likely to cause cavities, any carbonated beverage can still harm your teeth. These drinks are acidic enough to gradually wear down your enamel, which may lead to decay and sensitivity. Avoid carbonated beverages whenever possible.
Use a Straw When You Can
If you do decide to indulge in acidic drinks, using a straw will minimize the damage to your pearly whites. It reduces the liquid's direct contact with your teeth, resulting in less erosion. You're also more likely to finish the drink quickly as opposed to sipping it over a longer period of time and constantly coating your enamel in acid.
Add Tea to Your Diet
Many types of tea greatly benefit your oral health. One example is green tea, which contains antioxidants that work to lower the risk of cavities and encourage healthy gums. Of course, be sure to not add any sugar!
The last thing you need during your long-awaited summer vacation is having to visit a dentist to get your cavity or gum disease treated. By keeping these summer oral health tips in mind, you can enjoy peace of mind and a bright smile throughout the warmer months!
About the Authors
At White Clay Dental Associates, Dr. Donald Bond and Dr. Timothy D. Ganfield provide high-quality, affordable dental care for families in Newark, DE. They both have decades of experience and stay updated with the latest advancements and knowledge in the field of dentistry. To learn about keeping your smile healthy during the summer, you can contact their dental office at (302)-731-4225.