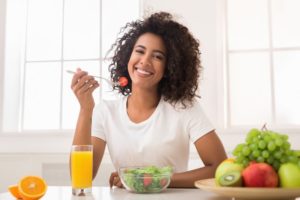 You've probably heard the old saying, "you are what you eat" many times before. Maybe you've heard it applied to energy levels. After all, eating naturally healthy foods fills you with long-lasting energy, and eating mostly sugary, processed foods leaves you sluggish. However, as any dentist can tell you, this saying also applies to your teeth and gums. Certain foods are incredibly beneficial for your smile, while others lead to cavities and gum disease. To keep your smile looking and feeling great, be sure to eat plenty of these six foods that benefit your oral health.
1. Leafy Greens
Most people already know that spinach and other leafy greens are wonderful for overall health. But they're also great for your teeth because they require a great deal of chewing. As you chew them, your mouth naturally produces more saliva, which rinses lingering food debris and bacteria away from your teeth. Not only does this lead to fresher breath, but it prevents these bacteria from causing tooth decay and infections.
2. High-Fiber Fruits and Veggies
Similarly, fruits and vegetables like apples, celery, pears, and carrots also take effort to chew, stimulating the production of saliva. Celery and carrots are good sources of vitamin A and vitamin C, both of which encourage healthy gums. Apples are naturally sweet, making them an excellent way to curb your sweet tooth without exposing your teeth to highly processed sugar.
3. Cheese
Dairy products like cheese, milk, and yogurt are rich in calcium, a mineral that keeps your teeth and bones strong. Cheese and milk also contain a protein called casein, which can protect your teeth from cavity-causing bacteria.
4. Wild Salmon
In addition to having high amounts of omega-3s, wild salmon is a great source of vitamin D. Without enough vitamin D, your body wouldn't be able to use the calcium you consume to strengthen your teeth.
5. Almonds
Not only are almonds chock-full of calcium and protein, they're also low in sugar. If you're craving something crunchy, have some lightly salted almonds instead of potato chips.
6. Green Tea
Green tea has been shown to reduce harmful oral bacteria and lower the overall acidity of the mouth. Plus, loose leaf green tea contains small amounts of fluoride, a naturally occurring mineral that fortifies tooth enamel and makes them more resistant to cavities.
Incorporating these items into your diet will do wonders for your smile and even your whole-body health. When you start looking and feeling better, you'll have these foods to thank!
About the Authors
At White Clay Dental Associates, Dr. Donald Bond and Dr. Timothy D. Ganfield provide affordable, high-quality dental care for patients of all ages. Both of our dentists have decades of experience and stay updated with the latest advancements and knowledge in the field of dentistry. They're more than happy to give you and your family personalized advice on keeping your smile healthy between routine checkups. To learn about more foods that benefit your oral health, you can contact their Newark, DE dental office by calling (302)-731-4225.