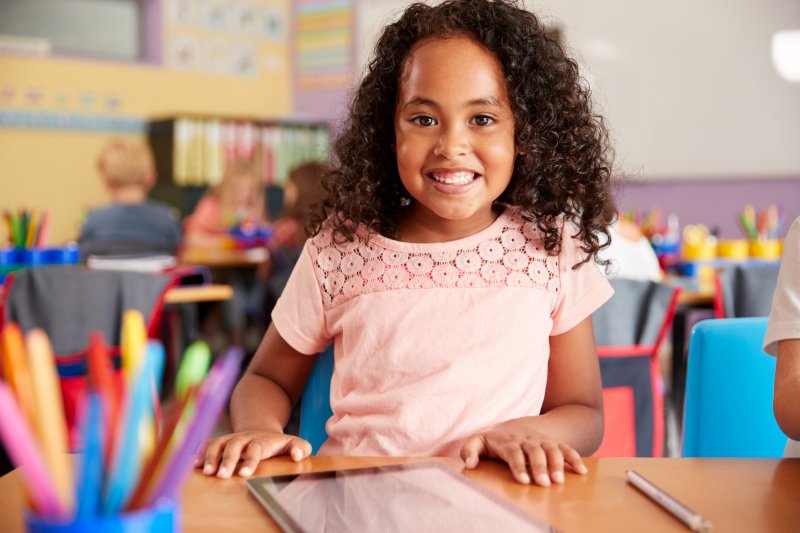 Now that school is right around the corner, you might be wondering how you can help your child excel this year. Did you know a healthy smile is one way you can set them up for academic success? It's true! Recent studies show that children with poor oral health are significantly associated with reduced school performances and psychosocial well-being. Plus, one report notes that over 51 million school hours are lost each year to dental-related conditions. Read along as your children's dentist shares a few tips to help keep your little one in the classroom.
Practice Good Oral Hygiene
Tooth decay is one of the most chronic childhood conditions – and it's four times more common than asthma! If left untreated, it can develop into more severe complications down the line. To prevent these issues, help your child practice good oral hygiene. Have them brush and floss their teeth at the same time every day to establish a routine! Eventually, it'll become second nature for them to follow these practices.
Make Brushing Fun
If your child dreads brushing their teeth, allow them to choose their own tools the next time you go to the store. They can opt for a toothbrush that lights up, plays music, or has their favorite character on it, giving them something to look forward to every time they brush!
Pack Healthy Lunches
Many popular lunch box snacks and drinks contain excessive amounts of sugar, which is bad news for your child's teeth. Consider packing them a lunch with nutritious snacks and meals to keep their smile healthy! Cheese, milk, whole-grain foods, deli meat, yogurt, fresh fruit, and raw vegetables are excellent options. If your little one eats at the school cafeteria, be sure to go over healthy food choices before school starts.
Protect Against Oral Injuries
Does your child participate in an organized sport during the school year? Contact sports like soccer, basketball, football, hockey, and volleyball can lead to chipped or broken teeth, fractured roots, and cut lips. Before the season starts, ensure that your little one is equipped with a properly fitted mouthguard to protect against these injuries.
Schedule a Back-to-School Dental Exam
Dental checkups are just as critical for children as immunizations and booster shots. The beginning of the school year is the perfect time to schedule their bi-annual visit! It allows your children's dentist to diagnose, treat, and prevent any problems that can turn into complications during the year. This routine exam can save your child from missing school time down the line.
Your child's oral health is just as important as their bodily health. By following the tips outlined above, your little one can kick off the school year with a bright, healthy smile!
About the Practice
At White Clay Dental Associates, we provide high-quality, affordable, compassionate dental care for patients of all ages. Using the latest techniques, materials, and technologies, we can help you and your family achieve healthy, strong, beautiful smiles that last for a lifetime. With the school year approaching, it's a good idea to bring your child in for a routine cleaning and exam. We'll make sure their oral health is in optimal condition and won't interfere with class time! Visit our website or call (302) 731-4225 to schedule an appointment with our children's dentist.