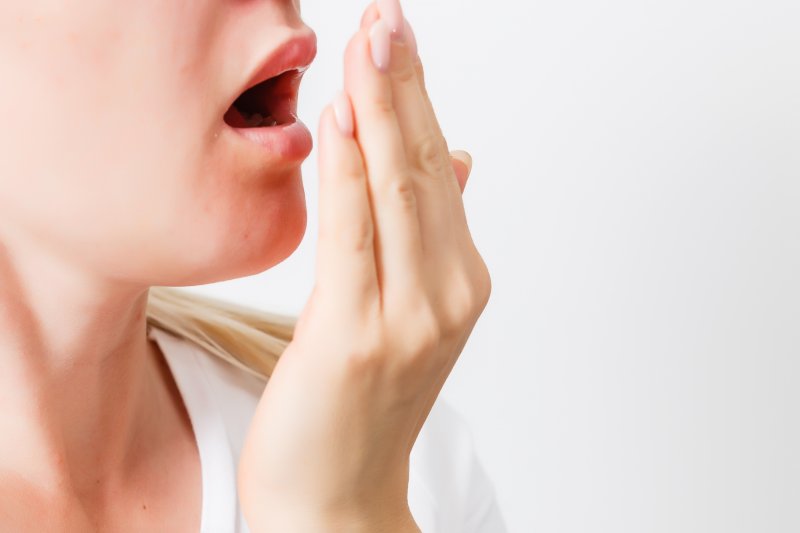 If you frequently have bad breath, you know how frustrating it can be. Bad breath can make you feel self-conscious when speaking to others and may cause you to avoid entering certain social situations all together. Luckily, there are several things you can do to get rid of it. Here are some of the most common causes of bad breath and what you and your Newark dentist can do to alleviate or prevent it.
What Causes Bad Breath?
Hydrogen sulfide, a chemical compound stored in parts of the mouth, is a known cause of bad breath. It's characterized by an unpleasant aroma that smells like rotten eggs to most. Some of the other common causes of bad breath are:
Using tobacco products
Dry mouth caused by certain medications, lifestyle choices, or health issues
Foods and drinks like coffee, garlic, and onions
Liver failure, certain cancers, and other metabolic diseases
Poor dental care
Mouth infections
Some mouth, nose, and throat conditions
Plaque buildup
Gum disease
How Can I Get Rid of Bad Breath?
Fortunately, there are several things you can do to get rid of bad breath. Brush your teeth for two minutes twice a day and floss once to remove food debris and plaque. Scrape or brush your tongue to remove residue buildup between the taste buds, and use mouthwash to remove bacteria from hard to reach places. Visit the dentist every six months so they can clean your teeth and rule out oral health problems like gum disease as the cause of your bad breath.
There are also several foods and drinks that can help. Researchers found that eating six ounces of yogurt daily reduces the levels of odor-causing compounds in the mouth. The University of Illinois at Chicago also discovered that rinsing your mouth with black or green tea helps suppress the growth of bacteria that can lead to bad breath. Eating crisp fruits and vegetables, chewing sugar-free gum, eating sugarless candy, and drinking more water can also stimulate saliva flow and keep the mouth moist to help wash away bacteria and food debris.
Practicing proper oral hygiene and incorporating new foods and drinks into your diet can help you lessen the number of bad breath-causing compounds in your mouth. By following the above tips and visiting your dentist on a regular basis, you'll be enjoying fresher breath before you know it.
About the Practice
White Clay Dental has been cultivating a friendly, trustworthy environment for its Newark patients for the past 50 years. They provide high-quality, affordable care for patients of all ages and offer a variety of oral health services you'll love. If you're struggling with getting rid of bad breath, they can help you find the root of the issue and administer treatment so you can start feeling more confident in yourself and your smile. If you want to make an appointment or have questions about how to get rid of bad breath, call (302) 731-4225 or visit White Clay Dental's website.