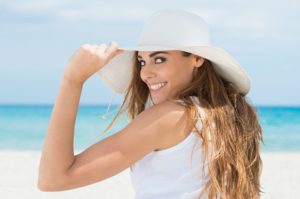 Summer will be here before you know it, which means it'll be time for barbecues, weddings, and vacations. If you're less than happy with the way your teeth look, you're probably not looking forward to all of the photo ops that will occur at these events. Luckily, there are plenty of ways that your cosmetic dentist in Newark, DE can transform your smile quickly. Here are three cosmetic dental services that will help you always be ready to flash your grin for the camera this summer!
Teeth Whitening
There are all kinds of reasons why your teeth might be duller than they used to be, from a daily coffee habit to tobacco use to simply getting older. If you've tried teeth whitening products from your local drugstore, you were probably disappointed with the barely noticeable results.
When you visit your dentist for professional teeth whitening, though, you can look forward to a dramatic difference. They can give you custom-fit trays and ultra-strength bleaching gel that breaks down deep stains and discoloration. For faster results, your dentist can even provide in-office whitening that takes only one hour!
Dental Bonding
Sometimes, a tooth may have a stain that is too stubborn for even professional teeth whitening to be effective. Maybe you'd like to cover up chips or cracks in your smile, or close a small yet noticeable gap between your teeth. In all of these cases, dental bonding can be a great solution.
The dental bonding process is simple. Your dentist just needs to take a small amount of composite resin – the same material used to treat cavities – and color-match it to your tooth enamel. The resin is sculpted over the flaw in question and then hardened with a special light. It shouldn't take more than a single appointment to make your tooth look like it was never anything less than perfect!
Veneers
As versatile and affordable as dental bonding is, it can only fix minor cosmetic flaws in your teeth. Additionally, it will probably only last for about five to ten years before the procedure will need to be redone. Veneers can correct many of the same imperfections and more. These super-thin porcelain shells are affixed to the fronts of the teeth, instantly concealing chips and discoloration as well as building up short or misshapen teeth and correcting slightly misaligned or rotated teeth. In short, veneers are the quintessential way to completely transform your smile. The treatment takes two visits, but it's an investment that can last for 20 years or longer.
With these treatments, your cosmetic dentist can give you a smile that shines as brightly as the summer sun. Reach out to their team to schedule your appointment and find out which one is best for you!
About the Practice
Our team at White Clay Dental strives to keep the smiles of Newark, DE beautiful and healthy. We provide a wide array of cosmetic dental services, including the ones described in this post. Our dentists – Dr. Donald Bond and Dr. Timothy Ganfield – would love to help you attain the confident grin you deserve. To find out how to improve your smile this summer with cosmetic dentistry, visit our website or call our office at (302) 731-4225.