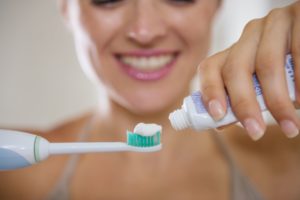 When it comes to keeping your teeth and gums healthy, you've probably heard the same refrain countless times: brush and floss. Even if you've made oral hygiene a dedicated part of your daily routine, there are probably some things you're doing incorrectly. Luckily, many of these teeth-cleaning errors can easily be fixed. Keep reading as a dentist in Newark, DE reveals the six most common mistakes that people make when cleaning their teeth.
1. Only Brushing Once a Day
For many people, brushing their teeth when they first wake up is a no-brainer since it's an easy way to get rid of morning breath. Unfortunately, it's not enough. Throughout the day, a sticky biofilm called plaque constantly forms on the teeth. When plaque isn't cleared away by brushing and flossing, it hardens into a substance called tartar, which can only be removed by a dental professional and increases the risk of gum disease and tooth decay. It takes about 12 hours for plaque to become tartar. To prevent this, get in the habit of brushing right before bed as well as when you wake up.
2. Brushing Too Hard
Not brushing enough is definitely harmful, but using too much force when brushing isn't any better. Overaggressive brushing or hard-bristled brushes might seem like they're better for scrubbing away plaque, but they can also wear down tooth enamel or gum tissue. It's much better to use a soft-bristled brush and apply very gentle pressure.
3. Ignoring the Gumline
Remember to carefully brush the area where your teeth meet your gums. Bacteria tend to gather in this area, and if they're not cleared away, they could increase the risk of oral health problems. Again, don't be too aggressive when brushing here.
4. Rushing Through Your Brushing
Most dentists recommend brushing for two full minutes each session, but the average American only brushes for 45 seconds. That's less than half of the suggested time! It may help to purchase an electric toothbrush with a built-in timer that lets you know when two minutes have passed.
5. Using the Same Toothbrush for Too Long
You should replace your toothbrush every three to four months at most, or sooner if the bristles are noticeably worn or frayed. Why? Damaged bristles aren't as effective at cleaning your teeth, so food particles and bacteria could still linger in your mouth and cause problems later on.
6. Failing to Floss
As crucial as toothbrushing is, it only cleans three of the five surfaces of the teeth. For the other two, flossing is essential. Floss at least once a day to remove debris from between your teeth, which would otherwise attract harmful bacteria.
Cleaning your teeth is absolutely vital to maintaining excellent dental health. With these simple tips, you can make the most of your oral hygiene routine and keep your smile in pristine condition!
About the Practice
At White Clay Dental Associates, Drs. Donald Bond and Timothy Ganfield offer a wide range of dental services for patients of all ages in the Newark, DE community. They focus on helping their patients avoid oral health problems whenever possible by giving them personalized guidance for maintaining excellent at-home oral care routines. To learn how you could be taking better care of your smile, contact their dental office by calling (302) 731-4225.