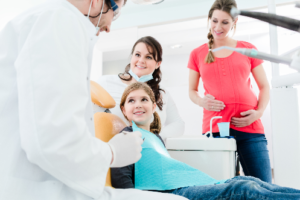 Nothing is more important than the health and beauty of your family's smiles. In addition to home oral hygiene, you know that regular appointments with your dentist in Newark are equally as necessary. Unfortunately, when raising a family, your life is busy. As a result, dental appointments often get placed on hold because you simply do not have the time to run to different offices for each person in your home. To keep their oral health a priority and to make scheduling appointments easy, you need a dentist who can care for your entire family.

Choose One Dentist for Everyone
Every member in your family has unique oral health needs, which constantly change over the years. You need a dentist who meets everyone's needs both today and in the future. This makes scheduling appointments convenient because you will not have to run to different dental offices for each person in your home.
Not only will you save time and money by not traveling to different locations, but scheduling appointments will be easy because multiple family members can be scheduled for the same day. In addition, this also makes it easy to keep track of your loved one's dental records because they will all be kept at one location.
Build a Trusted Relationship
When your family benefits from one family dentist in Newark, they will build a trusted relationship with their dental team. This helps to provide a stress-free visit while helping to set the foundation for a lifetime commitment to their dental health.
Benefit from Superior Care
When one dentist treats your family, your will enjoy a higher level of care. Your dentist can better understand how genetics and environmental factors contribute to your loved ones' oral health. As a result, they can intervene early to treat dental issues that may run in your family, such as overcrowding or gum disease. This allows for more personalized treatment plans to help your family reach and maintain their oral health goals.
Enjoy Services You Can Trust
Visiting the dentist should be a comfortable and stress-free experience. With one caring dental team by your side over the years, your family will look forward to their appointments. They will have a strong relationship with their dental team while having peace of mind knowing that they are in good hands. With satisfaction a top priority, you can invest in your loved ones' comfort with a caring team of professionals.
Choose a Family Dentist Today
Do not let your family's oral health needs fall to the bottom of your priority list. Make scheduling appointments easy while giving them the care they deserve with one dentist for the entire family.
About Dr. Donald T. Bond
Dr. Donald T. Bond is a trusted dentist in the community who treats patients of all ages. He provides complete dental servicers through all stages of life to create generations of healthy smiles. If you need a dentist to care for your family, choose one you can trust. Contact White Clay Dental Associates today to schedule your first visit.