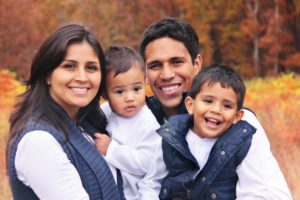 In your quest to improve your family's oral health, you make sure that the supply of toothpaste is always replenished. Furthermore, you try hard to encourage everyone to practice oral hygiene on a consistent basis. You're wondering, though, "Is there one toothpaste that's perfect for the whole family?" As you read on, your family dentist in Newark weighs in to answer that question and provide other valuable information.
What's the Best Toothpaste for the Family?
Unfortunately, there is no one toothpaste that's the perfect one for the whole family. That's because each of them has unique needs that may be related to age, previous dental issues, allergies, etc. So instead of looking for one toothpaste for everybody, it's a better idea to identify the specific needs of each member of your family and then purchase the type needed to accommodate them.
The Different Toothpaste Options Available
Thankfully, there are a host of toothpaste options for you to choose from, including:
Fluoridated Toothpaste – The most used type of toothpaste is the fluoridated kind. The fluoride is used to fight tooth decay by protecting your enamel as well as strengthening it.
Children's Toothpaste – Because your little ones are more likely to swallow their toothpaste, it's best to use a children's option for them. They will typically contain far less fluoride than the normal type and fewer abrasives to prevent any early damage to your kiddos' teeth.
Herbal or Natural Toothpaste – Some people are more interested in a more holistic route and choose to abstain from using fluoridated toothpastes. For them, there are herbal-based options on the market that use only natural ingredients.
Whitening Toothpaste – If you are struggling with teeth stains, you may consider a whitening toothpaste. But don't forget that it will usually contain more abrasives than normal toothpaste, which could lead to tooth sensitivity.
Toothpaste for Sensitive Teeth – If you already have sensitive teeth and need a toothpaste to address it, there's one for you. These types of toothpaste will contain a special blend of ingredients that better encourage the remineralization of your enamel.
Tartar Control Toothpaste – Does someone in your family have a history of dental caries? If so, then you may want to consider using a tartar control toothpaste. It contains special chemical compounds that fight plaque – the precursor to tartar.
Consistency Matters
No matter which toothpastes you end up buying, the consistency and proficiency of how they're used matters greatly when it comes to getting the results you and your family need. So be sure to encourage everyone to brush and floss at least two times a day.
The next great step you can take to protect your family's oral health is to visit your dentist in Newark regularly for cleanings and examinations. These appointments will ensure that all of your oral hygiene habits are effective.
About the Author
Dr. Donald T. Bond earned his dental degree from Virginia Commonwealth University School of Dentistry. He then went on to combine his background in chemistry with his dental knowledge to provide well-rounded care for his patients. A member of several professional organizations, Dr. Bond stays current with the latest advancements in the world of dentistry. He practices at White Clay Dental Associates and can be reached for more information through his website.