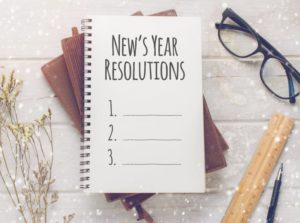 A new year means a fresh start, and if you're like many others, you probably have a list of New Year's resolutions that you're hoping to see come to fruition for you this year. Some of your goals may be enhancing your physical appearance, advancing your career, or developing new relationships. Have you considered that a healthier smile can help you do all of those things and more? It's not too late to add another item to your list of resolutions, and your Newark dentist shares several tips that can help you prioritize your smile in 2021.
Tips to Help You Prioritize Your Smile This Year
It's never too late to start making oral health a priority. Here are a few ways you can be kind to your smile this year:
Keep Up with Your Oral Hygiene
While most people would say they brush their teeth at least once a day, nearly 30% admit to only flossing when they feel the need, or just not at all! Flossing is just as important as brushing because your toothbrush simply can't do it all on its own. The floss removes the particles your toothbrush can't get to, which protects your teeth and gums from plaque build-up that can lead to infection and gum disease.
Eat Your Fruits and Veggies
There's a good chance that you were encouraged to eat plenty of fruits and vegetables by caretakers as a child, however, as you aged, you may have fallen out of the habit. Adding more of them back into your diet this year will provide your teeth and gums with the minerals and vitamins they need to stay strong and healthy.
Minimize Your Sugar Intake
This is a popular resolution that many people have for more reasons than one. In addition to helping you shed a few pounds and have more energy, cutting back on sugar also reduces the risk of your teeth developing cavities.
Be Diligent About Seeing Your Dentist
In the busyness of the year, it can be easy to put dental checkups on the back burner, however, preventive care is one of the most important aspects of taking care of your oral health. When you see your dentist, even if it's just for a routine cleaning, they check for gum disease, jawbone deterioration, and oral cancer. The sooner potential issues are detected, the more treatable they are.
One of the first things someone notices when they meet you for the first time is your smile. Show it a little extra love this year by doing everything you can to keep your pearly whites shining brightly!
About the Author
Dr. Donald T. Bond and Dr. Timothy D. Ganfield love being able to educate their patients on the importance of prioritizing their smiles. Oral health is the name of their game, and they will stop it nothing to help you maintain a beautiful smile. They have years of experience and expertise under their belts, which allows them to be able to provide the highest quality of care. Are you ready to schedule your next dental checkup? Request an appointment online or call (302) 731-4225.