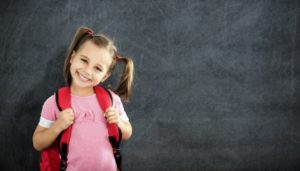 From buying the right supplies to packing nutritious lunches, there are plenty of ways to help your child start the new school year on the right foot. One thing that you may not have considered, though, is their dental health. Research suggests that if a child has a healthy mouth, they're more likely to do well in their classes. Read on to learn from a children's dentist in Newark about the connection between great oral health and academic success.
Children's Oral Health & School Performance
Dental health influences a child's academic life more than you might have thought. For example, kids with healthy smiles can look forward to:
Fewer Distractions
A cavity or broken tooth can be seriously painful, which can naturally make it difficult for a child to pay attention to their teacher's lessons or focus on doing their homework. By preventing your son or daughter from experiencing these issues, or getting them treated before they cause discomfort, you'll make it easier for them to learn.
Less Class Time Missed
To treat oral health problems like tooth decay, your child will probably need to be taken out of class to visit their dentist's office. The more often they have to miss school, the higher their likelihood of falling behind on their assignments and receiving lower grades. When your child stays on top of their smile's health, they'll be more likely to attend class on these days and not miss any lessons.
Higher Self-Esteem
Kids (especially preteens and teenagers) are often self-conscious about the way they look, which includes their smiles. When they're ashamed of chipped enamel or crooked teeth, they're less likely to engage with their peers or even participate in class. Getting these issues fixed by a dentist will give your child more self-confidence, improve their academic performance, and enrich their social life.
Tips for Helping Your Child Maintain a Healthy Smile
Now that you know the importance of good oral health for your child's school success, you can start taking steps to keep their growing smile in great shape. Here are some of the easiest ways to prevent dental health problems in kids:
Get them in the habit of brushing their teeth for two full minutes every morning and every night, as well as flossing right before bed.
Bring them to the dentist every six months for a regular checkup and cleaning. The hygiene team will remove cavity-causing plaque and tartar, while the dentist will check for untreated concerns and address them before they cause serious trouble.
Encourage them to eat mouth-healthy snacks like cheese, yogurt, apple slices, and salted almonds rather than sugary items like candy and cookies.
Oral health can have a surprisingly large impact on how well your son or daughter does in school. By taking a proactive approach to their smile, you can do your part to make this upcoming school year a successful one!
About the Practice
At White Clay Dental Associates, we're proud to have two excellent dentists offering stellar care to patients of all ages. Drs. Donald Bond and Timothy Ganfield personalize their treatments for each and every patient while building lasting relationships to ensure the patient stays comfortable. Our practice offers a wide range of children's dentistry services to keep your little one smiling brightly, such as fluoride varnishes and dental sealants. To set your child on the path toward a great school year and a healthy smile, contact our Newark, DE dental office by calling (302) 731-4225.